1. Custom Size, Custom Color:
When you order a dress with custom size or custom color, please follow the following steps.
1). Please choose "Custom Size" or "Custom Color" from the size and color variants.
2). Click "ADD TO CART", then click "GO TO CART".
3). In your shopping cart, you will see a comment box of Order Note, where you can remark your custom measurements, color options or other requests.
Custom Measurements we need(In inches or cm):
Bust = _____
Waist =_____
Hips =_____
Hollow/Collarbone to floor=_____
Height from top head to toe=_____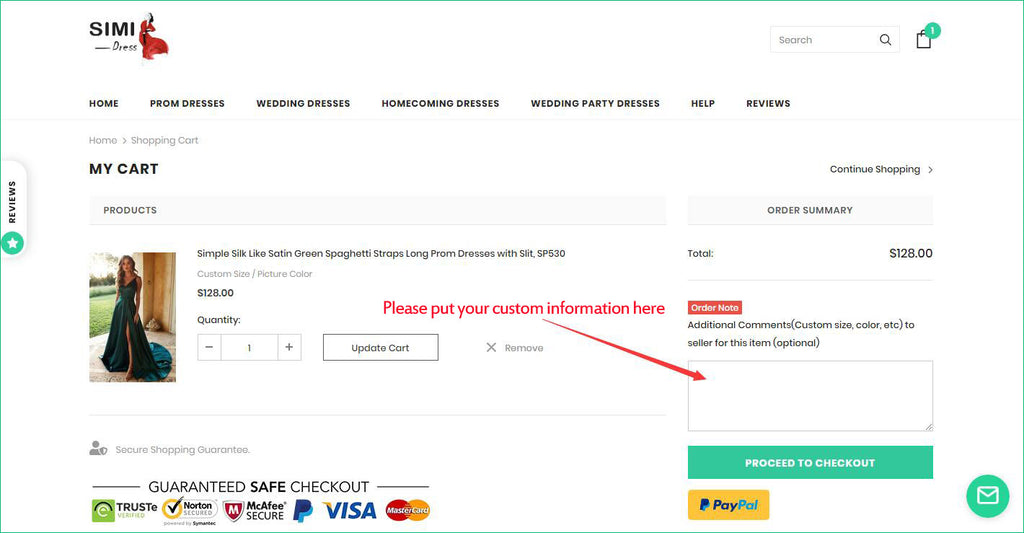 When you submit your order with custom information successfully, you will be followed by an order confirmation email from our service team to double check your custom information.
If you have problems to take your measurements or pick a color from the color swatches, please refer to the below instructions or contact us directly.
>> Color Chart
2. Custom Style:
We support custom style, if you want to customize a dress, please contact us to describe your requests and show us some photos for reference, our service team will talk details with you. Usually, there are no extra charges to do a custom style dress.
If you feel it is difficult to do a custom made dress, just email us all of your custom information, we will sort out all information for you.
Our service email is: simidress.services@gmail.com or info@simidress.com